A week-end at La Rosière!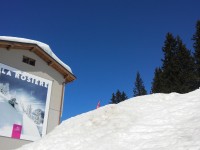 Here's a word of a couple from Lyon who enjoyed the cottage for a week-end.
"The websites of tourists' offices really helped us to get prepared for our stay. We trust them : warming-up on the first day, on the second one sliding, and the third one for hiking on our way back home. Perfect program!"
"We left right after work and got to the white paradise three hours after."
First day at La Rosière.
The cottage's owners' cousin has a sport boutique. We listen to Colette's tips. We feel like trying crosscountry skiing: well it's not as it seems, harder than downhill skiing. After several slopes, we finally go for hiking with sticks. We'll come back tomorrow for sliding.
We recommend:
– A green slope to try crosscountry skiing (you can also enjoy it by foot, wonderful landscapes!),
– Stick hiking below the village (panorama at the Joan of Arc chapel),
– A hot wine cup at Madame Arpin's (main street).
Diaporama – A couple of Lyon at la Rosière – Day 1
Second day in Italy.
Let's go to San Bernardo Pass by ski: faster than a car to taste a nice ristretto… First lift at 9h30, arrival at La Thuile at 11h30 (enjoying the pass slopes on our way). We sunbathe at la Buvette listening to Verdi's beautiful language, amazing and exotic.
We recommend:
– A picnic facing the Mont-Blanc in Italy, admiring sporty people skiing (or falling amazingly),
– An italian ristretto, 1€, at the family bar La Buvette ("caffè, grazie!"),
– The way back to La Rosière at sunset, no rush.
Diaporama – A couple of Lyon at la Rosière – Day 2
Third day between villages: "les hameaux".
We go for a drive on our way to Bourg Saint Maurice. At Le Miroir, we discover protected Piemont architecture with columns under chalets. Next at Villaroger, skiers come from the Arcs in the appletrees' fields. We finally get some cheese at the goat shed of Le Planay.
We recommend:
– Le Miroir's authenticity is really worth it (even if streets are so sloping…),
– Picnic at Villaroger to admire on the opposite hill La Rosière (and the cottage!),
– Strolls (and even hiking for the braves) with or without snowshoes,
– Beaufort at the cooperative before the big drive (you can find some at Séez too).
Diaporama – A couple of Lyon at la Rosière – Day 3
So, when are you taking a week-end to discover Les Ecombelles and the beautiful area around the cottage?