Hiking on the opposite mountain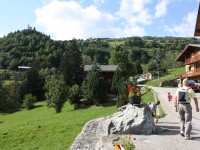 Today, we offer you to walk on the mountain you admire just in front of you on the balcony.

You'll reach by car these two places. Every hiker can enjoy these walks.

Departure: Plan Peisey parking.
Level: easy, and if you have little hikers, there's a bus to smoothe the effort.
Chapel: Give a call to Peisey-Vallandry's tourists office to know the opening hours. It's a baroque jewell, really worth a visit.

Departure: Fort de la Platte. This path is attracting many hikers as the panorama is awesome. Not so easy at first: the parking is at the top of a bad path and there's not so much space. You'd better arrive early in the morning.
Level: Easy for adults, maybe longer for children. (You can find some indications about children's abilities in mountain) Ask the Tourists office of Les Arcs / Bourg-Saint-Maurice.
The 5 lakes: Don't stop at the first one. You'll enjoy them all as said on this complete article by "randos pour petits et grands".